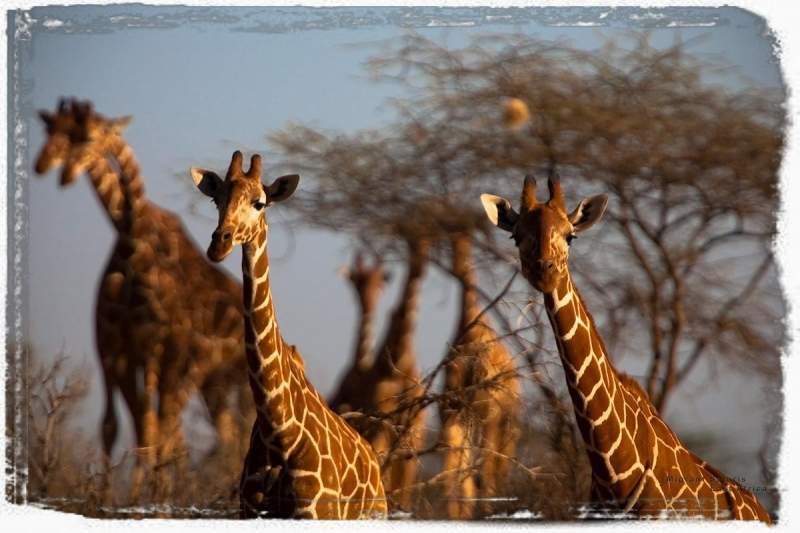 Day 1 & 2:Nairobi
On arrival, you will be met and transferred to your hotel by your Guide for the night. You will be met next day by our representative for a brief introduction of your tour. Visit the elephant orphanage and giraffe center. Have lunch at the Carnivore Restaurant and thereafter visit the national museum before going back to your hotel
2nights Fairview Hotel
Day 3 & 4: Samburu National Reserve
Today, we will start early after breakfast for a six hours drive to Samburu and arrive in time for lunch. You will spend the early part of your afternoon enjoying your new home or dive into the pool for a cool swim. Later in the day our drive takes us deep into wilderness to watch wild and birdlife. The Reserve is remote and dry. Head out early, late morning and evening for more game drives to the best wildlife spots. The region is home to rare kudus, Gerenuk, Zebra, Reticulated Giraffe, Somali Ostrich and three of the big five.
2 nights Samburu Shaba Lodge
Day 5 & 6: Olpejeta wildlife Sanctuary
After breakfast, drive to the slopes of Mt. Kenya getting to Olpejeta and your camp early enough for lunch. Famous for its biggest rhino population in the wild and a Chimpanzee sanctuary, it is also home to some of the big game and birdlife. Early morning and evening game drives takes you deep into the sanctuary for a more exciting experience. Optional night safari can be arranged to learn about nocturnal animals and have a feeling of being out at night in the wild
2 nights Sweet Waters Tented Camp
Day 7 & 8: Lake Nakuru National Park
Depart after breakfast down to Rift valley and to your new home at the shores of Lake Elementaita. After lunch explore on foot watching animals and later on a tour of the warm spar that flows to the lake. After a hot shower, it is time to relax and discover wildlife as the sun sets. Today will be a long day for us visiting bird "watcher's paradise" Lake Nakuru. Your Guide will take you round the pink ringed alkaline lake to watch wild and birdlife. This is home to huge flocks of flamingoes, pelicans, stilts, gulls, cormorants, some raptors and other species that inhabit the area and its surrounding. It is also home to some herbivores and carnivores. You will have packed lunch in a designated area and head for another ran around the lake looking for more game before going back home
2 nights Lake Elementaita Serena Camp
Day 9, 10 & 11: Maasai Mara National Reserve
Drive to the famous Masai Mara for lunch at Mara Sarova Camp. Later on proceed to your new home with game drive en route. We will have time to freshen up and dive into the pool before the end of the day. You will enjoy more wildlife for the rest of the days in this wonderful reserve. This is where the greatest migration of grazers in the world takes place. Huge herds of about 1.5 million wildebeests, hundreds of thousands of zebras, gazelles and rare Topis cross the Mara River from Serengeti in search for pasture. Optional activities such as balloon safari and nature walks can be included in your itinerary at an extra cost. Experience the uninterrupted access to the wildlife spectacle of them all.
3 nights Mara Serena Lodge
Day 12 & 13: Lake Naivasha
After breakfast drive to Lake Naivasha and arrive in time for lunch. Later on drive to Hell's Gate Park for a bicycle ride and a walk into the gorge. Next day, extend your wildlife expedition on a boat ride and head home for lunch. Later in the afternoon drive to Nairobi for your international flight where your safari ends with us.
1 night Naivasha Sopa Lodge